Der Ring des Nibelungen - Roman Brogli-Sacher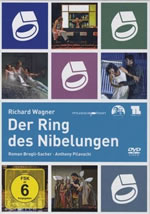 Marion Ammann, Anna Baxter, Patrick Busert, Richard Decker, Anne Ellersiek, Sonja Freitag, Andreas Haller, Wioletta Hebrowska

Philharmonisches Orchester der Hansestadt Lübeck - Roman Brogli-Sacher
7 DVD - Musicaphon
Tristan und Isolde - Karajan - Milan 1959
Anton Dermota, Birgit Nilsson, Claude Heater, Gustav Neidlinger, Hans Hotter, La Scala Theater Chorus, Murray Dickie, Wolfgang Windgassen

La Scala - Herbert von Karajan - 1959
3 CD - Golden Melodram (GM10080)
Tannhauser - Konwitschny - 1964
Gottlob Frick, Hans Hopf, Dietrich Fischer-Dieskau, Fritz Wunderlich, Rudolf Gonszar, Gerhard Unger, Reiner Süss, Elisabeth Grümmer, Marianne Schech, Lisa Otto, Manfred Koop, Arnold Schremm, Michael Wein, Karl-Heinz Voortmann

Chor und Orchester der Staatsoper Berlin - Franz Konwitschny - 1964
3 CD - EMI Classics (0965502)
Lohengrin (Selección) - Rudolf Kempe - 1964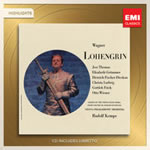 Jess Thomas (Lohengrin), Elisabeth Grümmer (Elsa), Christa Ludwig (Ortrud), Dietrich Fischer-Dieskau (Telramund), Gottlob Frick (Heinrich), Otto Wiener (Herald)

Wiener Philharmoniker - Rudolf Kempe - 1964
1 CD - EMI Classics (0948942)
Birgit Nilsson Sings Wagner
Birgit Nilsson canta fragmentos de Die Walküre, Parsifal, Rienzi, Der fliegende Holländer, Die Feen, Tristan und Isolde, junto a los Wesendonck-Lieder.
2 CD - Eloquence (ELQ4803550)
Trabajos orquestales - William Steinberg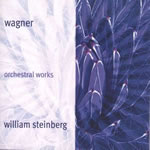 Fragmentos de Meistersinger, Lohengrin, Holländer y Rienzi. Obertura Fausto.

Pittsburgh SO - William Steinberg - 1961
1 CD - 3Mile
Oberturas y preludios - Karajan
Oberturas y preludios de Meistersinger, Tannhäuser, Holländer, Lohengrin y Tristan und Isolde

Berlin PO - Herbert von Karajan - 1975
1 CD - Emi Classics
The State Opera Unter den Linden
Daniel Barenboim dirige Berliner Philharmoniker en obras de Wagner, Beethoven, Schumann y Liszt.
1 DVD - Arthaus Musik (107175)
The Romantic Lied - Margaret Price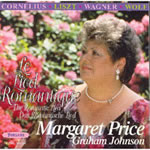 Margaret Price canta los Wesendonck-Lider, junto a otras canciones de Wolf, Cornelius y Liszt.
1 CD - Disque Dom (FOR16728)
A romantic opera night
Ben Heppner canta fragmentos de óperas de Richard Wagner y Richard Strauss en The Waldbühne Berlin en 1999

Berliner Philharmoniker - James Levine
1 DVD - Arthaus Musik (107156)
Una introducción a Parsifal
El pianista Detlef Eisinger hace una presención comentada de la obra Parsifal, con pasajes interpretados al piano.

2 CD - Musicom


agosto 2011